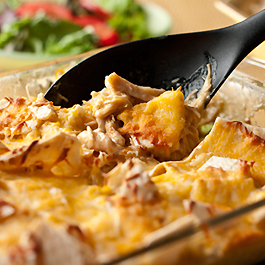 Courtesy of Campbell's® Kitchen
Servings: 6
Prep Time: 10 Min.
Cook Time: 8 Hr. + 30 Min.
* 1-1/4 lb. boneless skinless chicken breasts halves
* 1 Tbsp. chili powder
* 1 tsp. ground cumin
* 1-3/4 c. Swanson® Natural Goodness® Chicken Broth
* 2 cans (10-3/4 oz.) Campbell's® Condensed Cream of Chicken Soup (Regular or 98% Fat Free)
* 8 flour tortillas (6-in.), cut into 1-in. pieces
* 2 c. shredded Mexican cheese blend (about 8-oz.)
* hot cooked rice
1. Place the chicken into a 4-qt. slow cooker. Sprinkle with the chili powder and cumin. Pour in the broth.
2. Cover and cook on Low for 8 to 9 hr.* or until the chicken is cooked through. Remove the chicken to a cutting board. Using 2 forks, shred the chicken.
3. Reserve 1 c. liquid in cooker, adding additional broth, if needed, to make 1 c. Stir the soup into the cooker. Stir in chicken.
4. Heat the oven to 350°F. Layer half the chicken mixture, tortillas and cheese in a 13x9x2-in. baking dish. Repeat the layers.
5. Bake for 30 min. or until the mixture is hot and bubbling. Serve over the rice, if desired.

* Nutrition is based on using Campbell's® 98% fat Free Cream of Chicken Soup.

* Time-Saving: You can also cook the chicken on High for 4 to 5 hr.
Calories: 450;
Total Fat: 20g;
Saturated Fat: 9g;
Cholesterol: 95mg;
Total Carbs: 33g;
Fiber: 3g;
Protein: 34g;
Sodium: 1142mg;