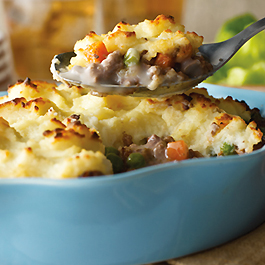 Courtesy of Campbell's® Kitchen
Servings: 4
Prep Time: 20 Min.
Cook Time: 15 Min.
* 1 lb. ground beef
* 1 medium onion, chopped (about 1/2-c.)
* 1 can (10-3/4 oz.) Campbell's® Condensed Cream of Mushroom Soup (Regular or 98% Fat Free)
* 1 Tbsp. ketchup
* 1/8 tsp. ground black pepper
* 1 c. frozen peas and carrots
* 2-1/2 milk
* 1/4 c. (1/2 stick) butter
* 2 c. instant mashed potatoes flakes or buds
1. Heat the oven to 400°F.
2. Cook the beef and onion in a 10-in. skillet over medium-high heat until the beef is well browned, stirring often to separate meat. Pour off any fat.
3. Stir the soup, ketchup, black pepper and peas and carrots in the skillet. Spoon the beef mixture into a 9-in. pie plate.
4. Heat milk and butter in 2-qt. saucepan over medium-high heat to a boil. Remove the saucepan from the heat. Stir in the potatoes. The potatoes will be stiff. Spoon the potatoes over the beef mixture.
5. Bake for 15 min. or until the potatoes are lightly browned.

* Nutrition is based on using Campbell's® 98% Fat Free Cream of Mushroom Soup.
Calories: 524;
Total Fat: 28g;
Saturated Fat: 14g;
Cholesterol: 112mg;
Total Carbs: 40g;
Fiber: 4g;
Protein: 30g;
Sodium: 610mg;