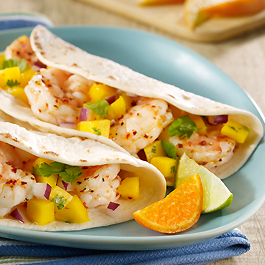 Courtesy of Mission Foods
Servings: 4
Prep Time: 30 Min.
Cook Time: 5 Min.
* 8 each Mission® Small/Fajita Super Soft Flour Tortillas
* 1 lb. medium size shrimp, peeled and deveined
* 1 tsp. salt
* 1/4 tsp. ground black pepper
* 1/4 tsp. crushed red pepper flakes
* 2 Tbsp. lime juice, fresh
* 1 Tbsp. olive oil
* 1/2 c. mango, fresh, diced
* 1/2 c. red onion, diced
* 1/2 c. cilantro, fresh, roughly chopped
* 1 Tbsp. Sriracha sauce
* 1/2 cup ranch dressing
* as needed fresh lime wedges
1. In a small mixing bowl, combine the ranch dressing and sriracha. Reserve refrigerated.
2. In a separate mixing bowl, combine shrimp, salt, black pepper, red pepper flakes, and lime juice. Toss to combine.
3. Heat a sauté pan over medium high heat until hot. Add olive oil, then the shrimp and sauté until pink and cooked through (about 2 to 3 minutes) turning often to cook evenly.
4. To assemble tacos, place about 4 warm shrimp into each tortilla shell and top with 1 Tbsp. diced mango and 1 Tbsp. diced onions. Drizzle with sriracha ranch dressing and sprinkle with chopped cilantro. Serve with lime wedges to be squeezed over top.

Hint: The spiciness of this dish can be adjusted by adding more or less sriracha to the ranch dressing.
Calories: 530;
Cholesterol: 180mg;
Total Carbs: 34g;
Fiber: 1g;
Sugar: 6g;
Protein: 27g;
Sodium: 1520mg;