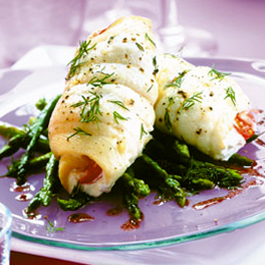 Courtesy of UK Seafish Authority
Serve With:
Roasted asparagus
Servings:
2
Prep Time:
10 Min.
Cook Time:
15 Min.
* 2 - 6 oz. sole fillets, skinned
* salt and pepper, to taste
* 2 Tbsp. fresh dill, chopped
* 2 Tbsp. goat cheese, sliced
* 4 cherry tomatoes, thinly sliced
* juice and zest of 1 lemon
1. Preheat oven to 400ºF.
2. Place fillets on a cutting board skinned side up. Season with salt and pepper. Sprinkle 1 Tbsp. dill over fillets. Reserve the remainder.
3. Lay goat cheese over fish and top with the tomatoes. Roll up and place into a greased baking dish.
4. Add lemon zest and juice and remaining dill. Bake 10-15 min.
5. Garnish with more dill and serve with asparagus.

* Nutritional information does not include suggested side dishes.

Courtesy of Seafish, the UK Sea Fish Industry Authority www.seafish.org

"From sea to plate, Seafish delivers expert knowledge, skills and support which help the UK seafood industry secure a sustainable and profitable future."
Chablis, Sauvignon Blanc, Viognier
Calories: 227;
Total Fat: 5g;
Saturated Fat: 2g;
Cholesterol: 89mg;
Total Carbs: 13g;
Fiber: 1g;
Protein: 35g;
Sodium: 167mg;